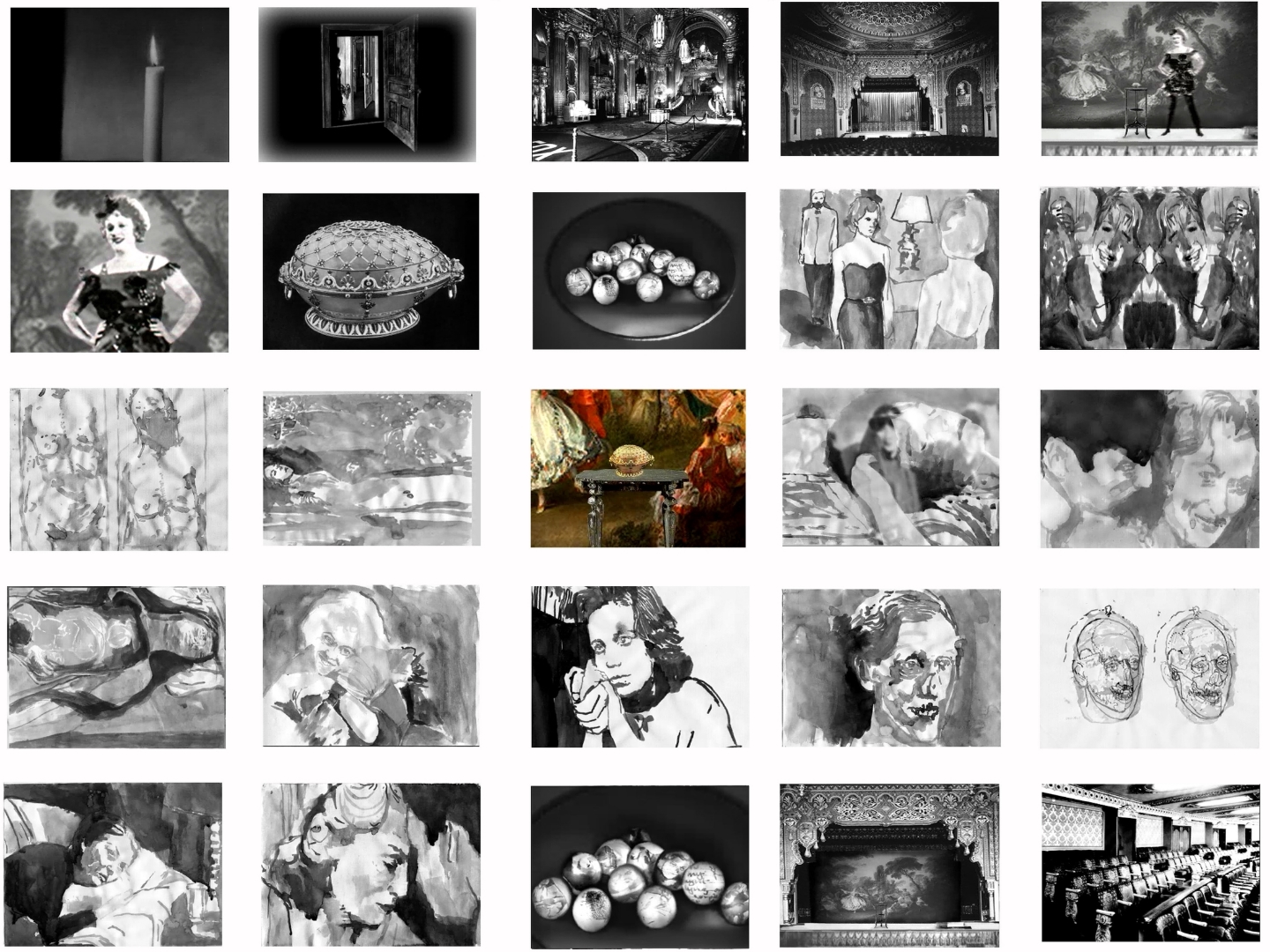 Amnesia at East International, Norwich Gallery, UK, 2001
Amnesia at East International.
Anne-Marie was in East International three times over the duration of its existence.
animation, 8 minutes 30 seconds
1999/2000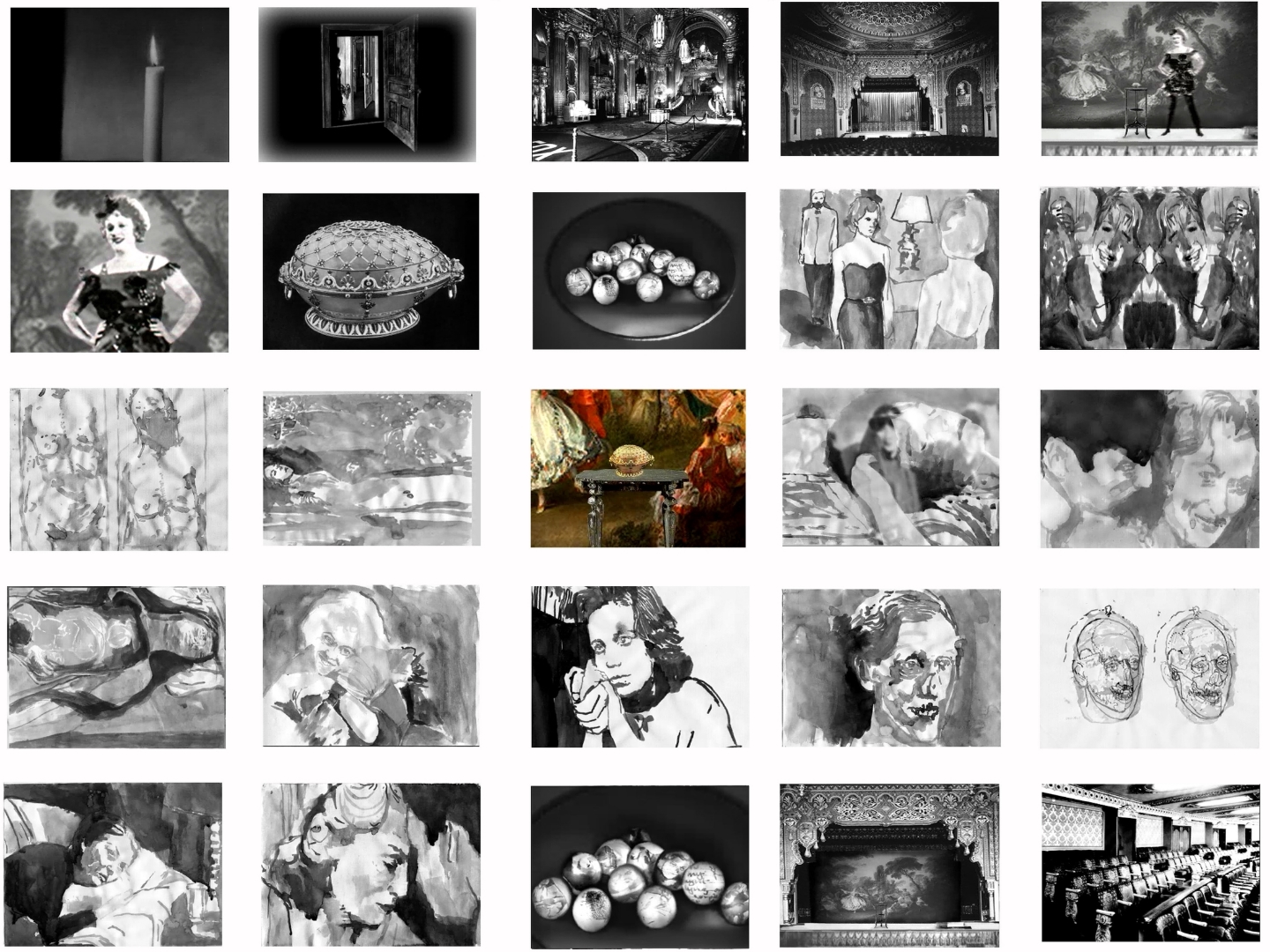 Amnesia, still sheet
Amnesia
animation, 8 minutes 30 seconds
1999/2000
Anne-Marie Creamer's early animation work 'Amnesia' proposes a quasi-surrealistic journey into a hidden space within a Faberge egg, which was itself placed within a very baroque cinema palace; it is like a journey into the mind. In its' structure the work also explores the structure of a mise-en-abyme, in which successively miniature and baroque worlds exist within each other. Partly an early attempt to make an allegorical animation, 'Amnesia' is entirely made of still images, either found or altered images from destroyed cinema palaces of the 1920's & 30"s, whilst her ink and watercolor drawings are also copied from film stills. Everything in 'Amnesia' is in a sense a copy of copy, but in Creamer's animation this becomes transformed into little bits of time and cinematic fantasy set in amber, and whilst also remaining imagery without a straight forward sense of origin, are also redolent of a era of classical cinema which is now largely over.
Exhibition History
2010: the original drawings from Amnesia will feature DRAW at the Royal College of Art, London in April 2010. In May/ June 2008, 'Amnesia' will be exhibited in the exhibition 'F O U N D / G E V O N D E N / T R O U V É', Voorkamer Gallery, Lier, Belgium. In 2006'Amnesia' drawings and stills featured in'The Drawing Book, a survey of drawing, the primary means of expression'. Edited by TaniaKovats. With texts by Charles Darwent, Kate Macfarlane & Katherine Stout. Black Dog Publishing. 'Amnesia' has been previously shown at AD&A Gallery, Osaka, Japan (supported by the British Council); the Omotesando Gallery, as part of British Artist Now Festival, Tokyo, Japan; 'East International', selected by Mary Kelly & Peter Wollen, The Norwich Art Gallery, Norfolk, U.K. and the 'In Your Head Film Night', One-in-the-Eye Film Club, selected by David Harrison, Cubitt Gallery, London.
Amnesia, exhibition installation shots, East International, Norwich School of Art Gallery, 2001
Exhibition installation shots of Amnesia in exhibition. Here in East International 2001, curated by Mary Kelly and Peter Wollen, Norwich Gallery Uk.
Drawing from the Amnesia series, 63
This is a selection of the drawing for the Amnesia animation. There are eighty drawings in total for this work. Each drawing is 12 x 10 inches. ink or watercolour on paper. 2001
Drawing from the Amnesia series, 15
From Amnesia drawing series, 12 x 10 inches. ink or watercolour on paper. 2001
Drawing from the Amnesia series, 39
From Amnesia drawing series, 12 x 10 inches. ink or watercolour on paper. 2001
From Amnesia drawing series, 60
From Amnesia drawing series, 12 x 10 inches. ink or watercolour on paper. 2001
From Amnesia drawing series, 5
From Amnesia drawing series, 12 x 10 inches. ink or watercolour on paper. 2001
Drawing from the Amnesia series, 4
From Amnesia drawing series, 12 x 10 inches. ink or watercolour on paper. 2001
From Amnesia drawing series, 7
From Amnesia drawing series, 12 x 10 inches. ink or watercolour on paper. 2001
From Amnesia drawing series, 47
From Amnesia drawing series, 12 x 10 inches. ink or watercolour on paper. 2001
From Amnesia drawing series, 40
From Amnesia drawing series, 12 x 10 inches. ink or watercolour on paper. 2001
From Amnesia drawing series, 25
From Amnesia drawing series, 12 x 10 inches. ink or watercolour on paper. 2001
From Amnesia drawing series, 26
From Amnesia drawing series, 12 x 10 inches. ink or watercolour on paper. 2001
From Amnesia drawing series, 29
From Amnesia drawing series, 12 x 10 inches. ink or watercolour on paper. 2001